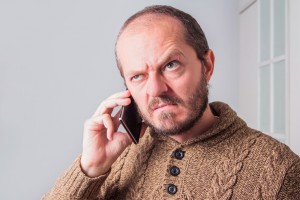 First impressions count, even when an auto-attendant makes them.
If you're making use of an auto-attendant, you've got a reason. No judgment calls on our part. You're also probably aware that most people who call may think less of your business when they get a robot recording, right? It's psychological. "I prefer to speak to robots," said no human, ever.
But sometimes everyone really is so busy that it's impossible to take an incoming call. And there are things you can do to make it less of an impersonal experience for anyone who calls you.
Who talks this way in real life?
Just because it's recorded doesn't mean it has to be artificial. And face it, most auto-attendant messages sound like the first take of a badly-written script. It's easy to misinterpret the tone of an email. That's not the case when we hear someone speak, even if it's a recording. Invest in having your auto-attendant script professionally written, or give it some TLC yourself. You can even consider investing in having it professionally produced, if you want to go the extra mile.
And we're not talking about the "I make announcements for a living" disk jockey kind of voice talent. Engage the services of a company that provides quality voiceover talent. These people specialize in sounding like, well, someone who might actually answer the phone on behalf of your company.
It might be a recording, but there's no reason you can't faithfully capture greetings and responses that emote both care and attention. Use the following tips when you're crafting a message:
Break grammar rules so you communicate to be understood. Hardly anyone speaks the way they write.
Be friendly and make people feel welcome. Your auto-attendant should speak to them, not read to them.
Get rid of passive statements you wouldn't use in a live conversation. "You may dial your party's extension at any time." Would you say that to someone while talking to them on the phone?
Ch-ch-changes
"Please listen carefully, as our menu options have changed." How many times have you heard this? And how irritating did you find it?
Maybe you found it annoying because it's vaguely insulting. Listen carefully? You called to speak to someone, a human. Instead you got an auto-attendant who tells you to pay attention because you're about to have to make a choice from up to nine options. This is helpful?
It's basically a two-part insult, and you can do better. Don't ask callers to listen carefully. They also couldn't care less that you've changed the menu options. They didn't call to hear menu options, and it's rather presumptuous to assume they've called you previously.
And they surely don't appreciate being made to feel bad for not remembering if billing issues is option number 3, or number 15.7 … b.
To hear a duck quack, press 5
If you want to capture a caller's attention, entertain them. Give them a reason to chuckle. It'll help them get past the aggravation of having to navigate through your automated system. It's possible to actually enjoy interfacing with an auto-attendant. You can make it a first for them by sprinkling in some self-deprecating humor. A bit of elicited empathy goes a long way, and it's easy to do if you think like a human instead of a robot.
Consider making light of what could be running through a caller's mind. They called and expected to talk to a human but they got a robot, instead. I can't wait to hear the reason why.
"Hello, and thanks for calling us! I hope you don't mind that I'm an auto-attendant. I'll get your call where it should go as quick as possible. Oh … and our menu hasn't changed so you don't have to listen carefully."
That's human. A caller can intuit personality and feel your brand when you choose to communicate at a more intimate level like this. Consider using some unexpected humor to break the ice and make the interaction memorable. Callers expect to be told to press a certain number to hear the instructions again. How often, though, are they told to press a certain number for a completely ridiculous reason?
Your call is important to us
Really? Then why did a robot answer? That's what your callers might be wondering if they have to spend too much time with a robot instead of a human. If you're using an auto-attendant, plan to compensate for the frustration.
Remember, too, that encountering an auto-attendant doesn't have to be a "game-over" scenario. People don't like it because no one has ever given them a reason to love it. Rise to the challenge. Take your recorded greeting and prompts to the next level. Prove that their call really is important with a script that engages and entertains.
CallSprout can write and record your auto-attendant script (plus make sure it works properly!) while providing you stellar, multiply-redundant VOIP services, so your phone lines will never be down – all at lower cost than traditional phone service.
Check out our list of services and fill out our convenient form to see exactly how much you can save.