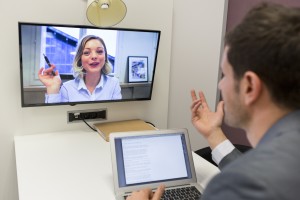 We're the healthy Ooma Office alternative
Oh, dear. It isn't looking good for anyone considering Ooma for their VoIP.
High startup costs, subscription expenses, extension fees plus extra outlay for conference calls? It all mounts up for a business. The great news is there's another option that's not only better for you, but also guarantees a lot more green at the end of the month. We're CallSprout, and we're owning VoIP across twelve industries.
Go grand
While Ooma offers an office package that could hurt the pockets of small businesses, we offer affordable and comprehensive VoIP that can save from 30 to 50 percent compared to traditional phone lines.
Our award winning Grandstream range offers five different communication models to suit you, each with voice over IP, HD video conferencing, and accessories utilizing up-to-the-minute technology. Most importantly, every model benefits from CallSprout's dedicated security coverage (more on that below). Try these:
Our programmable GXP2130 is ideal for a home or small office business. It offers three lines and 4-way conference calls, a full-color screen and superior audio quality.
If you're dealing with higher call volumes, our GXP2135 provides up to eight lines in full HD audio alongside speed dial and built-in Bluetooth to sync up with mobile devices.
Our 2140 model is an executive IP phone with four available lines, 5-way conferencing and an extension module allowing ease of access to up to 160 contacts. It's the ideal phone for small businesses and enterprises.
Our GXP2200EXT is the extension module for the 2140. Up to four modules can be added to the 2140 for offices dealing with very high call volumes. Make conference calls, monitor and transfer incoming lines, and switch easily between its many other features, all on a large and easy to view LED screen.
Say Yea
We've got even more options to choose from to help you find the perfect VoIP. Our Yealink range offers twelve devices and accessories, like:
Our SIP-T40P, which offers three lines, HD sound, an LCD screen, and a score of other features.
The cordless W52H can team up with four other handsets for crystal clear 3-way conferencing and low data-bit rates.
The SIP-T48G is our 16-line executive phone, sporting a 7-inch full color screen, Bluetooth and wired/wireless headset support. Designed for paperless operation, it's the model of efficiency.
If you're handling lots of calls and need to expand, the EXP39 module is ideal for receptionists, call centers and busy execs.
You can review the long list of great features for the Grandstream and Yealink models on our product page. They're just the beginning of how we offer you the best in VoIP (and leave many of our competitors with a bad taste in their mouth).
CallSprout offers a better Internet experience
We like to call our own Internet service Unbreakable. It can handle high call volume and even offers a failsafe against dropped calls so seamless you won't even notice the transition … and it's all wireless.
We believe in advanced security protection
It's a priority for us to keep your system safe. CallSprout services allow you to control and monitor your system from any mobile device, protect you in the event of a power outage and they are covered by a 24/7 police presence to rapidly respond to any threat. Those are only a few of the features we offer. There are even more ways we can prove our commitment to you and your security.
If you choose Ooma, you'll be paying $45 a year for security protection if you're a "premier" customer and $60 a year if you're seen as merely a "basic" customer … which brings us to our next point.
We don't exclude ANY of our customers
Where Ooma likes to hide many of its features behind an additional "premium" cost, we don't prioritize the essential needs of our customers on a cash gradient. How much you spend with us every month doesn't limit your options. ]Whether you're using over 100 devices or simply one, CallSprout users get access to all our features including unlimited US and Canadian calls. We have a lot of other ones too, from auto attendant and call forwarding to conferencing and time based routing, so you might want to settle in and check this list on your lunch break.
We offer on-call customer service
Each of our phones is also a hotline directly to our Customer Support team. All you need to do is switch to the pre-programmed "CallSprout" line and we'll take care of the rest.
The best CAN cost less!
If you're weighing your VoIP options, then fantastic performance at a fraction of our competitor's price is something we should talk about. Drop us a message and let us help you grow!