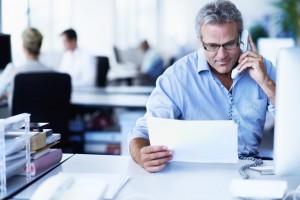 Combine these two tools and take customer communication to the next level.
Are your CRM and VoIP platforms two ships that pass in the night? You likely have both of these as SaaS solutions, so that would actually make them two clouds that pass in the night (if we keep the metaphors rolling). It's worse than a romantic tragedy. These two crucial business tools are made for each other, but they're often kept separated. If only they were united as one.
Cue the violins. Then get to work on selecting a provider who can offer you a solution that brings CRM and VoIP together as a toolbox. The combination puts the benefits of both platforms to work for your business. Here are the top reasons to integrate them:
It's all about customer service
You already know the benefits of a VoIP system when it comes to putting customer contact information at your fingertips. But a name and phone number are hardly enough. Now, take everything you know about customers and get it in front of your people so they can anticipate needs and solve problems in real-time. You'll spend more time deepening customer relationships, and less time searching for their information.
All this CRM data is already in the perfect state to port over the digital pipeline. Immediate access to valuable customer information like purchase history and preferences means you're able to ask less questions and focus more time on appropriate dialog that increases sales conversions.
Do you use a VoIP platform to offer customer service? Integrate CRM with it and improve your effectiveness. Your support staff can offer shorter wait times and faster assistance. That's a winning combination for customer satisfaction.
Be here now
Consider the responsibilities of the average sales agent. They're your connection to discovering business innovations that'll increase sales. Each interaction they have with a customer generates valuable insight into what's working, and what's not. What if your sales agents could pay full attention to customers instead of capturing call details by having to manually type? That's the beauty of a VoIP CRM all-in-one solution.
Many VoIP solutions offer call recording, which allows sales agents to more easily capture and append actual customer input and responses. It's a potent way to elevate the 'relationship' part of CRM.
Close the loop
Let's be honest. There are other ships related to your business that pass in the night, and they could use a bit of matchmaking, too. Your marketing department and your sales department truly need each other, but often they're too busy to have even a simple conversation.
Marketing departments need to know all about the interaction happening between the sales department and customers. But how do they get in on this? Close the loop. Instant access to CRM reports and sales helps the marketing department find better ways to tell a business story.
Adding CRM to VoIP creates a deeper relationship between marketing and sales. You can test out the effects of different marketing messages and see their real-time impact.
A manager's new best friend
Not all customer phone calls are created equal. Short is better if your business depends on handing incoming or outgoing customer call volume. And "short" applies to both customer wait time, as well as the length of an average call. You gain exponential insight when your CRM solution is an integrated tool in your VoIP platform.
It's no longer just a numbers game of statistics. Managers can get real-time qualitative insight into ways to increase efficiency. Sales agents get better assistance for improvement. Resources can be redirected in scalable ways that take advantage of quality customer experience.
That's not easy to do when you have to rely upon two separate platforms.
VoIP and CRM are two indispensible customer service tools. One gives you better ways to communicate, and the other deepens your insight into the best ways to take advantage of that communication. One improves the way you connect with customers, while the other improves the way you can communicate to your customers. It's a technological marriage made in heaven. Or at least in this case, a marriage made in the cloud.
CallSprout VoIP solutions are configured to take advantage of the leading CRM software options. It's another distinct advantage of the customized, reliable, and affordable solutions we offer.
Check out our list of services and fill out our convenient form to see exactly how much you can save.